Filter by Subcategory
KSP Only Classes
Investigations for the Patrol Unit (CVE DIVISION ONLY)
with Ron Gilbert

Dec 4, 2023 at 8 am
Special Considerations:   Currently Open to current CVE units only. Students will be required to arrive with assigned MDT, camera, audio recorder, and any issued evidence collection-related equipment.
Course Description: 
This is an intermediate course on several aspects of criminal investigation, specifically for uniformed officers.  The course will include photography, legal updates, domestic violence, child abuse and major scene response.  There will be hands on exercises during the course.
This Course is KLEC Approved for 40 Hours
KLEC #2492-22K
Full Course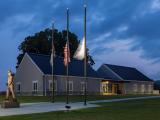 Law Enforcement Avoidance Position (LEAP I)
with Justin Rundles

Dec 4, 2023 at 8 am
This class is a 40-hour block of the 2023 Kentucky State Police,  agency-wide Law Enforcement Avoidance Position Program, with an emphasis on injury avoidance, while also controlling the suspect in high-stress situations. Emphasis on protecting the perpetrator as well as the Trooper through technique and confidence when in a physical altercation. This will be accomplished by learning, understanding, and demonstrating effective techniques as well as being able to not only articulate their actions but also justify them. Knowing the legality and having the confidence to execute the proper technique at the correct time.
This course is KLEC Approved for 40 hours of in-service credit.
KLEC #2435-21K 
For more information, please contact:
Sergeant Justin Rundles U/164
Kentucky State Police
Academy Branch
Frankfort, KY. 40601
Cell: 270-201-6050
Email: justin.rundles@ky.gov
Full Course
Finding the Missing (Elizabethtown)
with Miranda Luttrell

Dec 4, 2023 at 9 am
This course focuses on helping telecommunicators develop the skills & knowledge needed to ensure they accurately use all resources available to assist in locating a missing person. This course will provide information on initial call taking, state and federal policies, various resources available through CJIS, and resources such as NamUS and the National Center for Missing and Exploited Children. Students will learn how to use these policies and resources to assist law enforcement in locating or identifying a missing person.
The instructor: Miranda Luttrell is the Manager of the Post 15 Columbia radio room and is also an Adjunct Instructor for the Kentucky State Police Academy. She has been dispatching since 1999 and teaches several classes in the academy including CJIS/NCIC.
KLEC Course #: 2493-22K
Will run